AN IMPORTANT CITY RESIDENCE
Offered at $25,000,000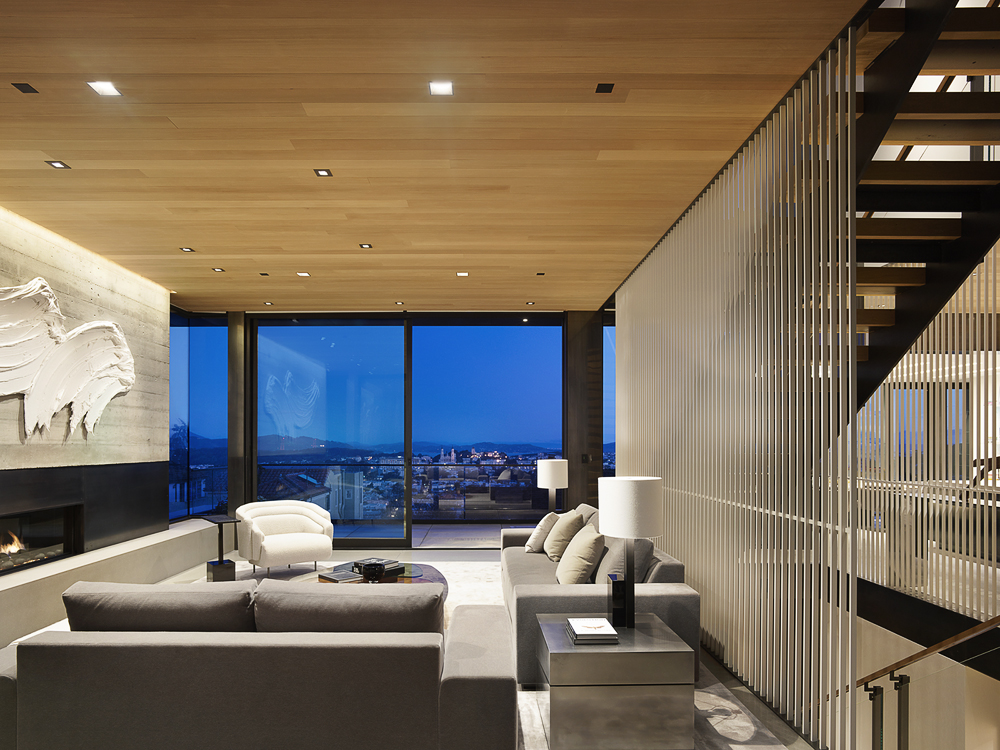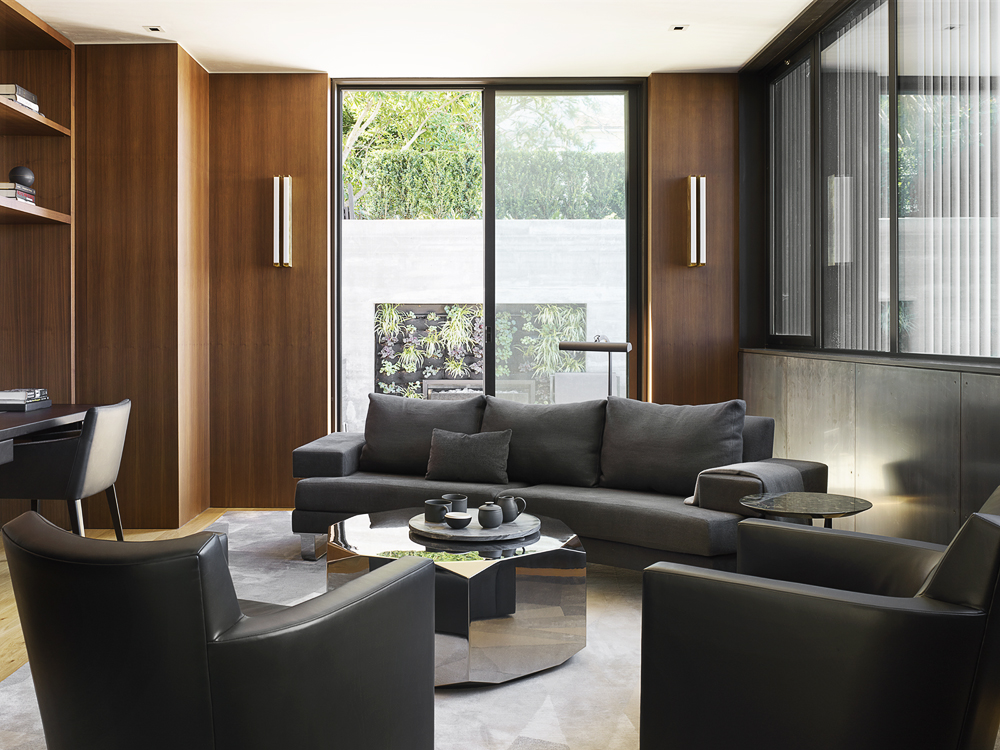 An Introduction
From time to time, a fine residence quietly enters the San Francisco marketplace and commands a reverence reserved for so few. This is such a moment in time, born of six years from conceptualization to realization. A time that offers the astute connoisseur an unforeseen chance to capture a true masterpiece. Immediately recognizable to the trained eye, a home of such quality calls for pause to experience each exacting detail of the whole. The alchemy of site and design, the interplay of light and mass, presents a purity of calculated balance and refined proportion. Wrapped in luxurious materials and punctuated with hand selected furnishings and art, the inspired architecture serves as a springboard into each day and a welcomed respite at day's end from the pulse of our emerging global capital.
Architecture
Realized drawings from the desk of John Maniscalco Architects emerge onto the cityscape each year, dotting our peninsula's famed hills and signaling a path forward in San Francisco's rich architectural heritage. Based in the local modernist traditions of Dailey, Wurster, and Escherick, Mr. Maniscalco's studio is currently developing an important body of work that captures the zeitgeist of San Francisco's emergence as a global capital. A legacy in the making, one born of a client's dream and an architect's guiding hand, this home presents a rare opportunity to join a select group of homeowners who, through their passion for design, are creating a thought provoking moment in the city's architectural lineage to be lauded for decades to come.
Interior Design
Elegance, integration, and understated luxury became the guiding tenets for Studio Collins Weir during the developmental phase of the property's interior design. The execution of this vision lead to a curation process that employed the design and fabrication talents of local artisans to create an informed response between the furnishings and the interior architecture's hand chosen materials. In addition to the selection of fine furnishings from noteworthy European and American designers, the home is layered with custom rugs, decorative art, and tasteful books. For more relaxing moments the home theater has Belgium crafted seating reminiscent of the finest first class cabins and bed assemblies offering personalized rest settings. The home's private and public spaces, both indoor and out, are based on a livable marriage of function and form. A rare offering prepared for immediate occupancy awaits.

Property Site and Views
Nestled amongst the lush eucalyptus grove of an interior greenbelt and commanding city views from Tank Hill, the property's site captures a sublime mix of intimacy and expansiveness. Set along a private cul-de-sac and on a triple wide 75' lot, this prime location has quietly become the city's best-kept secret for estate style properties. A convenient central location offers immediate access to Golden Gate Park, charming neighborhood shopping and restaurants, and public transportation to the financial district and SOMA technology offices.
From sunrise to sundown, the glamour of San Francisco's natural topography and internationally recognized landmarks elevate this site specific, panoramic view profile. Anchored by nature's backdrop of the Marin Headlands, the view captures the Golden Gate Bridge towers, St. Ignatius cathedral, and the sparkling downtown skyline crowed by the recently completed Salesforce Tower.
Private City Estate Offering

JMA Architecture Design

Property on 70'x100' lot

5 Bedroom - 4.5 Bath

Panoramic Views From Golden Gate Bridge to Downtown

Open Plan Entertaining Level with Landscaped Terrace with Outdoor Kitchen and Spa

Offered with Furnishing and Art Package by Studio Collins Weir

Industry Quality Projection Room

Savant Home System

Elevator to all Levels
Digital Property Brochure
DESIGN-BUILD TEAM
John Maniscalco
John Maniscalco Architecture was founded in San Francisco in 2000. Prior to opening his eponymous firm, Mr. Maniscalso worked with Gensler designing a wide range of complex projects. This background gives his practice a unique vantage point when designing cutting edge, contemporary single-family homes. His firm oversees all phases of construction from conception to completion. With a particular focus on the development of unique, site-specific, and client-centric solutions, the firm has realized a broad portfolio of projects throughout the Bay Area, Coastal and Wine Regions, Tahoe, Utah, and Montana.
Studio Collins Weir
Studio Collins Weir is a full-service interior design studio based in the San Francisco Bay Area with projects reaching from California to New York City. Founded on 2015, Studio Collins Weir's experience lies in the marriage of interior design and architecture working together to create fully realized projects, each unique to its own client. Their beautiful homes are a result of listening to and understanding each client combined with a deep respect for the site and the architecture. Within each project, one notices the firm's signature touches of custom, crafted furnishings and textiles as well as elevated art curation.
Hughes & Co. Construction
Hughes & Co. Construction is based in San Francisco with a core mission of delivering high-quality and cost-effective custom homes. Having been born into a well-established family construction business in the Southeast, David Hughes understands the importance of preparation, hard work, and effective client and team communication Supporting a rigorous approach to complex projects, with budgets ranging $1,000,000 to $20,00,000, is a passion for fine craftsmanship and the ultimate joy of a satisfied client upon the delivery of a fine custom home on time and on budget.
Wihlborg Design
Don Wihlborg has been a licensed landscape architect for over 34 years with an extensive background in design, execution, and dynamic visual appeal. His specialization in irrigation design as a landscape architect is a rare combination in the field. He has designed hundreds of projects in the arenas of single family residences, multifamily housing, shopping centers, schools, parks, office complexes, hotels, for both private and public groups. His ability to communicate well in working with home owners, developers, contractors facilitates the successful completion of his award winning projects.
Offered in a Private Sale - Buyer Representation
Sotheby's International Realty
117 Greenwich Street, San Francisco, CA 94111
Stacey Caen | 415.450.8465
Joseph Lucier | 415.260.9791
© 2019 All rights reserved Web site is not the official Web site of Sotheby's International Realty, Inc.® SIR, Inc. does not make any representation or warranty regarding any information, including without limitation its accuracy or completeness contained on this site.
SC: DRE# 01939000 JL: DRE# 1260976